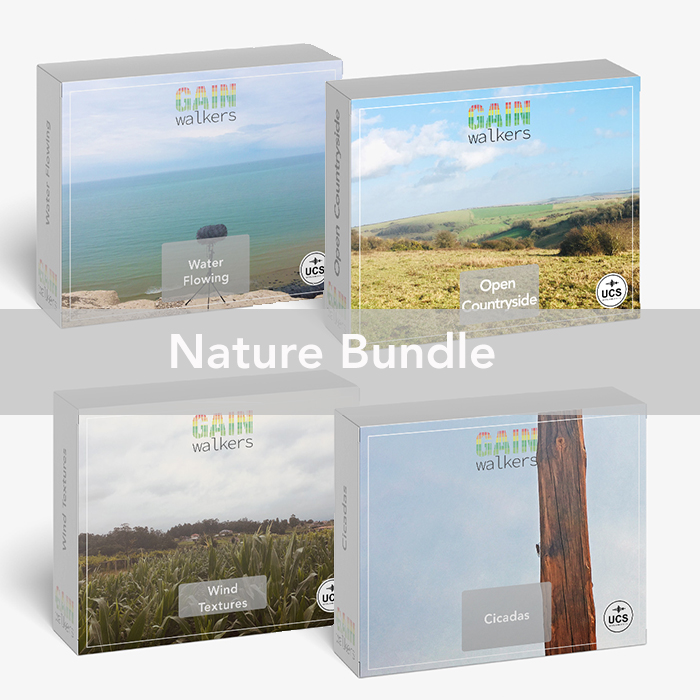 Nature Bundle includes eleven different sound libraries, covering a great variety of natural sounds. By purchasing this bundle you will benefit of a 30% discount.
An extensive collection of rain and wind sounds hitting and blasting different surfaces at several intensities, both in urban and rural areas.
Countryside recordings: pine forests, grasslands, swamps. From dawn to dusk.
Cicadas chirping during summer season.
Seagulls cawing in urban environments.
Water flowing in all types of scenarios. From calm to turbulent flows, with near and distant perspectives.
Gear used: Sound Devices Mix Pre 6-II, Zoom F8, Sony D100, Sennheiser MKH 8040s, Sennheiser MKH 8050, Senhheiser MKH 30, Sennheiser Ambeo.
All files are in 96 kHz / 24 bit and come with exhaustive embedded Soundminer metadata.
UCS compliant metadata. Fields included CatID, Category, Subcategory, FX Name, Filename, Description, BWDescription, Library, RecType, RecMedium, Microphone, Designer, Manufacturer, Keywords.
Keywords included:

Rain, Wind, Weather, Breeze, Gust, Blustery, Howl, Whistle, Cicada, Insect, Summer, Spring, Autumn, Winter, Seagull, Residential, Countryside, Water, Waves, Sea, OCean, River, Stream, Waterfall, Bubblel, Splash, Woodland, Grassland, Forest, Valley, Glade, Hill, Meadow, Bird, Rural, Day, Night, Dusk, Dawn, Spain, United Kingdom, Ambisonic.