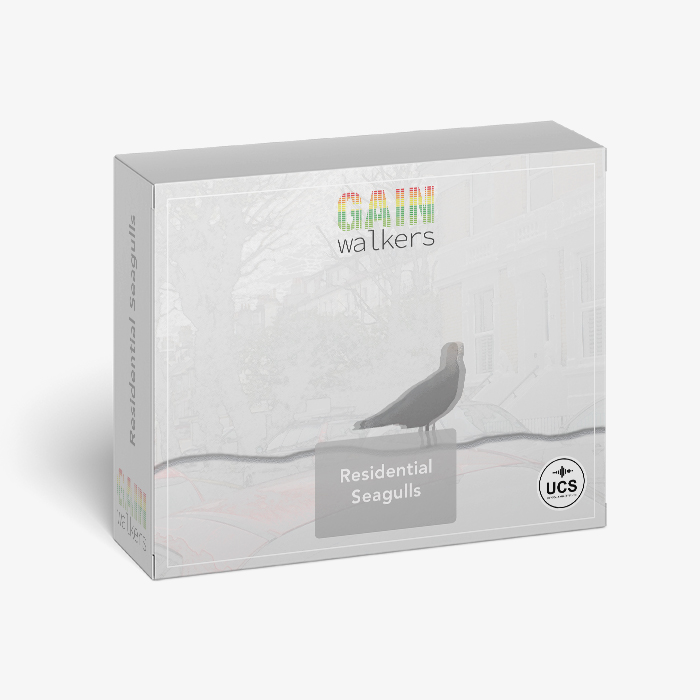 Residential Seagulls features 18 stereo tracks of seagulls in a residential area. All recordings took place in backyards where the city noise is very close to zero.
Seagulls are the focus in all the recordings. Some tracks only contain seagulls, and some others also include sparrows, doves and magpies.
Recordings are mainly from sunrise and sunset, where seagulls tend to be more present. Recordings at night are also included though.
Seagulls vocalizations include classic seagull scream, some throaty and raspy calls, laughing sounds and mew calls or noises. From individual seagulls to bigger groups, including flocks.
Even though the focus of this library is to represent the soundscape of a residential area near the sea, with more or less distant calls, the collection also includes closer calls and screeches, which can be used for sound design purposes. Note: pitch shifted demo is not included in the library.
Recorded in M/S and ORTF, with ultrasonic content up to 50 kHz.
Human noise is absent. You won't hear any traffic, cars or neighbors. All recordings with those noises have been discarded.
Named markers are included in each file to help find interesting events.
All recordings have been made in the south coast of England.
As usual, all files come in 24 bit and 96 kHz, with Soundminer embedded metadata.
Gear used: Zoom F8, Sennheiser MKH 8040 in ORTF, Sennheiser MKH 8040 & Sennheiser MKH 30 in M/S, Sennheiser MKH 8050 & Sennheiser MKH 30 in M/S, Rycote ORTF Blimp, Rycote Cyclone MS.
UCS Compatible Metadata embedded. Fields included CatID, Category, Subcategory, FX Name, Filename, Description, BWDescription, Library, RecType, Microphone, Designer, Manufacturer, Keywords.
Update Jun 2021: 15 new recordings have been added to this collection. Some of these new recordings may contain a bit of light traffic in the distance, just to give more options. In those cases, the metadata includes the corresponding information.
Product details
Number of Files: 33 High Quality WAVS
Size Unpacked: 4.2 GB
Sample Rate: 96 kHz / 24 bit
Total Duration: Approx. 150 minutes
Other Info: Embedded Soundminer and BWAV Metadata
License type: Single user, royalty-free. For a multi-user license, please contact us.
Keywords included:

Seagull, Bird, Ocean, Sea, Water, Beach, Seafront, Port, Waves, Urban, Call, Caw, Laugh, Raspy, Sunset, Sunrise.