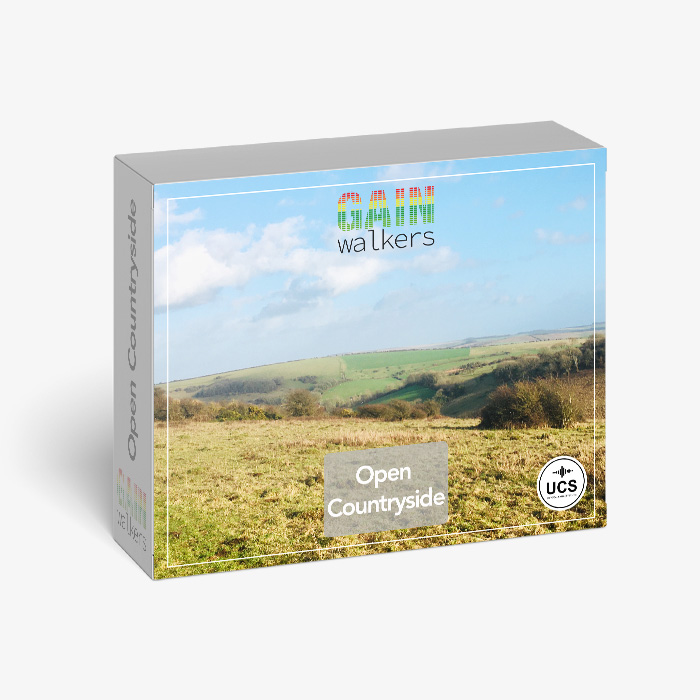 Open Countryside focuses on those airy and wide areas so common in grasslands, valleys, hills, meadows and glades in forests. The recordings took place between Spain and the UK, although they are meant to be as neutral as possible, so they can be used for different places.
You will hear several types of birds including but not limited to sparrows, wrens, wagtails, pheasants, dunnocks, crows, pigeons, woodpeckers.
Other animals featured are roosters, stag calls, dogs barking, owls hooting, cows mooing, sheep baas, as well as crickets, cicadas, flies, and bees.
This collection features general ambiences with the animals mentioned above present in the recordings. They all tend to sound wide and spacious, with some animal calls bouncing off the trees.
There are a few close up recordings such as sheep baas, dog barks, bird calls and cows moos but do not expect this library to be a collection of close up recordings.
Unless specified, all files are free of human noise.
Recorded over a period of three years, all four seasons – winter, summer, spring and autumn – are present.
Locations included in this library are:

South Downs National Park, United Kingdom
Picos de Europa National Park, Spain
Sierra Morena, Spain
Cuenca Alta del Manzanares Regional Park, Spain

Dawn, dusk and afternoon times have all been covered.
Gear used: Sound Devices MixPre 6-II, Zoom F8, Sennheiser 8040s in ORTF, Sennheiser 8040 & MKH 30 in M/S, Sony D100.
UCS compliant metadata. Fields included CatID, Category, Subcategory, FX Name, Filename, Description, BWDescription, Library, RecType, RecMedium, Microphone, Designer, Manufacturer, Keywords, VendorCategory.
Product details
Number of Files: 60 High Quality WAVS
Size Unpacked: 7.9 GB
Sample Rate: 96 kHz / 24 bit
Total Duration: Approx. 230 minutes
Other Info: Embedded Soundminer and BWAV Metadata
License type: Single user, royalty-free. For a multi-user license, please contact us.
Keywords included:

Woodland, Grassland, Forest, Valley, Glade, Hill, Meadow, Prairie, Rural, Bird, Cow, Crow, Sheep, Cricket, Dog, Owl, Insect, Cicada, Bumblebee, Rooster, Donkey, Hen, Stag, Sparrow, Woodpecker, Jackdaw, Dawn, Dusk, Winter, Summer, Spring, Autumn, Spain, United Kingdom.