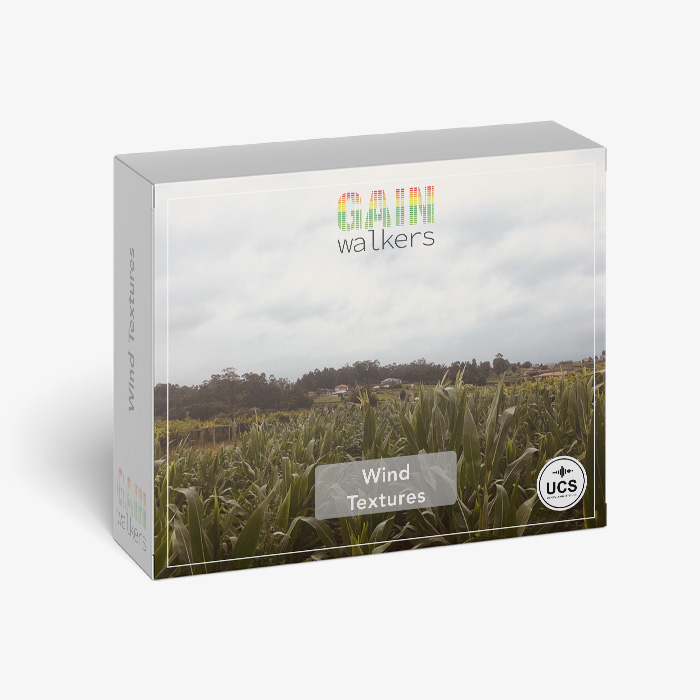 Wind Textures features blowy and breezy ambiences, both in urban and rural areas as well as outdoor and indoor perspectives.
Urban areas include recordings from backyards, empty streets and parks. Free of traffic and birds, you will hear trees creaking, twigs fluttering, leaves rustling, branches crackling, distant impacts, deep and long gusts and the whole space whistling and squeaking.
Rural areas: on the top of cliffs, in the middle of a forest, bushes rustling.
Indoor perspectives with wind howling and whistling through windows as well as a contact mic placed in chimneys and windows.
Wind fluttering vegetation: orange trees, shrubs, corn fields, dry leaves, fig trees.
Wind against plastic textures and raincoats.
From a calm breeze to gusts of up to 100 kmh.
26 files from outdoors and another 26 from indoor perspectives.
Recorded over the course of a year around Southern England and Galicia, Spain.
Gear used: Zoom F8, Sennheiser 8040 in ORTF, Sennheiser 8050 or 8040 with MKH 30 in M/S, Sony D100, Aquarian H2a Contact Mic.
UCS compliant metadata. Fields included CatID, Category, Subcategory, FX Name, Filename, Description, BWDescription, Library, RecType, RecMedium, Microphone, Designer, Manufacturer, Keywords, VendorCategory.
Product details
Number of Files: 52 High Quality WAVS
Size Unpacked: 5.83 GB
Sample Rate: 96 kHz / 24 bit
Total Duration: 182 minutes
Other Info: Embedded Soundminer and BWAV Metadata
License type: Single user, royalty-free. For a multi-user license, please contact us.
Keywords included:

Wind, Weather, Breeze, Gust, Blustery, Howl, Whistle, Backyard, Bush, Chimney, Cliff, Corn Field, Creak, Fig, Forest, Leaf, Leaves, Park, Plastic, Raincoat, Rumble, Rural, Rustle, Shrub, Squeak, Storm, Street, Tree, Urban, Window.