Countryside Winter – Ambisonics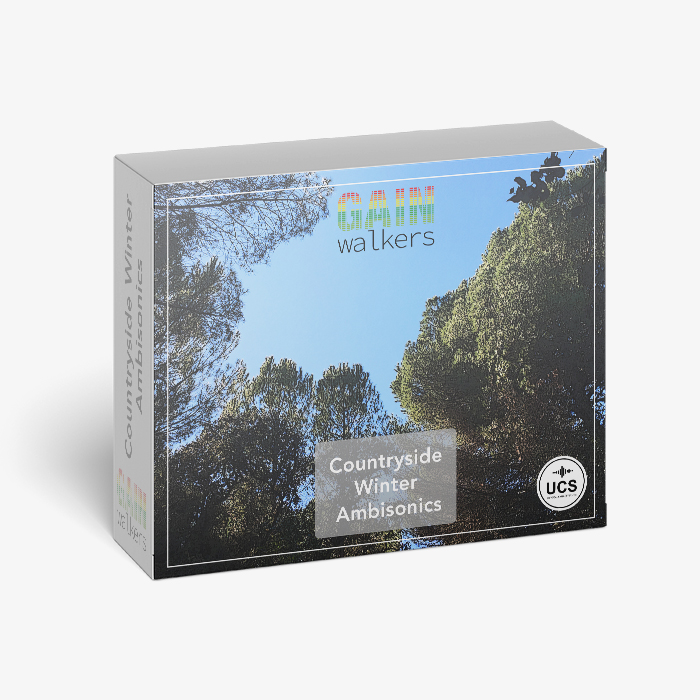 Countryside Winter – Ambisonics brings you 15 ambisonic atmospheres recorded during different times of a day in winter: early morning, morning, afternoon, evening and night.
All these recordings have been done in Sierra Morena, Andalusia (Spain). Being winter, birds tend to be much quiet and insects are almost gone, so most of the ambiences are pretty silent. You will hear mainly birds such as sparrows, doves and woodpeckers. At night dogs and roosters make an appearance.
Recordings have been done with a Sennheiser Ambeo + Zoom F8.
All files are in 96 kHz/24 bit and meta-tagged.
This Ambisonics sound effects library contains the original recordings in A-Format (no processing whatsoever) and in B-format (AmbiX). By using Harpex, 5.1 (LRCLfeLsRs) and stereo (ORTF) mixdowns have been also added. Note that the Lfe channel is mute. It hasn't been removed to follow the SMPTE  path order.
Soundcloud demo plays the stereo version.
UCS Compatible Metadata embedded. Fields included CatID, Category, Subcategory, FX Name, Filename, Description, BWDescription, Library, RecType, Microphone, Designer, Manufacturer, Keywords.
Product details
Number of Files: 15×3 High Quality WAVS
Size Unpacked: 18.3 GB
Sample Rate: 96 kHz / 24 bit
Total Duration: 67 minutes each version
Other Info: Embedded Soundminer and BWAV Metadata
License type: Single user, royalty-free. For a multi-user license, please contact us.
Keywords included:

Countryside, Ambisonic, Andalusia, Spain, Winter, Bird, Dove, Pigeon, Sparrow, Woodpecker, Rustle, Woodland, Forest, Nature, Quietness, Calm, Peace, Serenity.