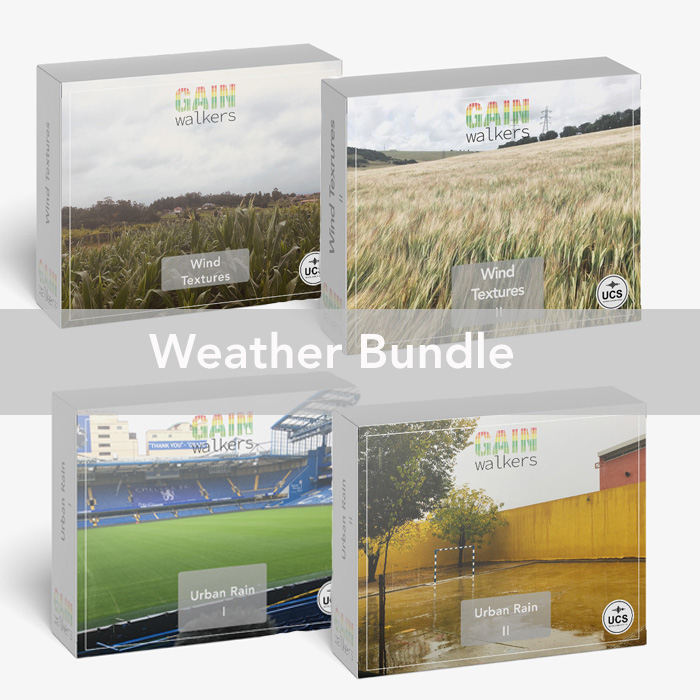 Weather Bundle includes four different sound libraries, featuring rain and wind both in urban and rural environments, at 30% discount.
This bundle brings together an incredible collection of rain and wind sounds hitting and blasting different surfaces at several intensities.
Wind Textures I and II: empty streets howling and whistling, vegetation rustling, plastic and cloth flapping, interior perspectives.
From calm breezes up to gusts of 80 kmph.
Urban Rain I and II: rain in terraces, backyards, parking lots, tunnels, rooftops, patios, inside cars, or even in a stadium.
Drops against plastic, metal, pavement, puddle and marble.
Free of unwanted sounds. Unless it is specified, you will only hear either wind or rain.
Gear used: Sound Devices Mix Pre 6-II, Zoom F8, Sony D100, Sennheiser MKH 8040s, Sennheiser MKH 8050, Senhheiser MKH 30, Sennheiser Ambeo.
All files are in 96 kHz / 24 bit and come with exhaustive embedded Soundminer metadata.
UCS compliant metadata. Fields included CatID, Category, Subcategory, FX Name, Filename, Description, BWDescription, Library, RecType, RecMedium, Microphone, Designer, Manufacturer, Keywords.
Product details
Number of Files: 215 High Quality WAVS
Size Unpacked: 28.4 GB
Sample Rate: 96 kHz / 24 bit
Total Duration: 826 minutes
Other Info: Embedded Soundminer and BWAV Metadata
License type: Single user, royalty-free. For a multi-user license, please contact us.
Wind Textures II – Spreadsheet
Keywords included:

Rain, Wind, Weather, Breeze, Gust, Blustery, Howl, Whistle, AC, Attic, Balcony, Barrel, Bottle, Bush, Chimney, Creak, Greenhouse, Drone, Fence, Leaf, Leaves, Meadow, Metal, Park, Plastic, Rattle, Rumble, Rural, Rustle, Shrub, Squeak, Shelter, Steel, Street, Tonal, Tree, Urban, Window, Alley, Backyard, Car, Garage, Patio, Tunnel, Terrace, Porch, Roof, Wood, Glass, Mood, Pipe, Puddle, Mud, Hailstone, Drip, Drop.