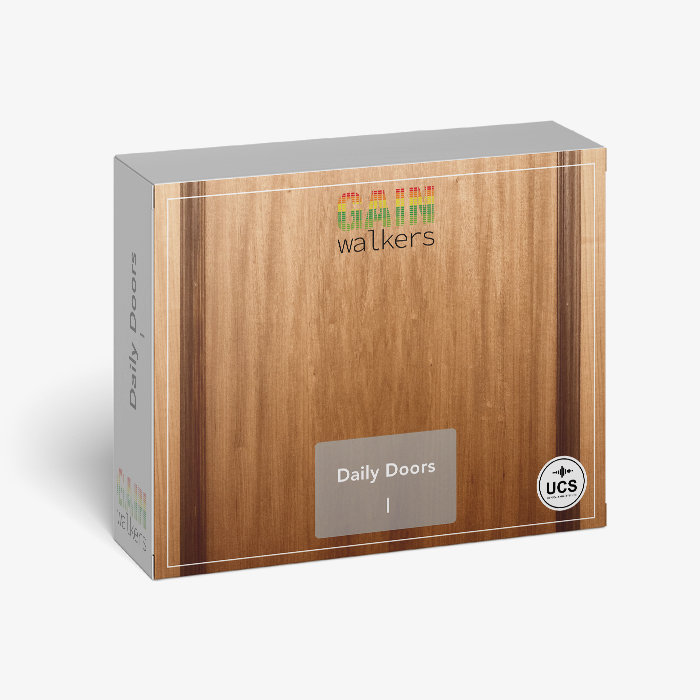 Daily Doors I brings you 147 household doors (those ones present in every project) opening and closing, recorded simultaneously from a close and a distant perspective. One of the main problems with doors is that they tend to sound "too close". A door will sound different depending on where the microphone is placed. By using two different mics, we tried to achieve that goal and match the camera point of view.
Close perspective is around 50 centimeters far away from the source, whereas the distant one is around 2-3 meters far away, depending on the room size.
Distant perspective is in M/S. Both M/S Decoded and RAW are included in the library, so you can play with it as you please: using only the close one, using both close and distant, using just the distant one, decoding it to mono, wider… The list is endless.
Unless it wasn't possible due to the nature of the sound, all sounds were recorded in two different intensities: Hard and Soft. Each file contains at least 3 different takes opening and closing, making a total of more than 1400 door sounds.
Some other actions, apart from opening and closing, have been also included, such as knocking on doors, slamming, forcing handles, locking and unlocking doors, door chains and latches.
All files are in 96 kHz / 24 bit and meta-tagged, both in Soundminer and BWAV.
Gear Used:

Close Perspective: Sennheiser 8050, Sennheiser 416
Distant Perspective: Sennheiser 418, AKG CK93 & 94, Zoom H2n
Recorders: Zoom F8, Sound Devices 633

UCS Compatible Metadata embedded. Fields included CatID, Category, Subcategory, FX Name, Filename, Description, BWDescription, Library, RecType, Microphone, Designer, Manufacturer, Keywords.
10% off if you add Daily Doors II to your cart.
Product details
Number of Files: 441 High Quality WAVS
Size Unpacked: 4.15 GB
Sample Rate: 96 kHz / 24 bit
Other Info: Embedded Soundminer and BWAV Metadata
License type: Single user, royalty-free. For a multi-user license, please contact us.
Keywords included:

Front Door, Kitchen, Living Room, Bathroom, Bedrooms, Hallway, Backyard, Terrace, Fridges, Freezers, Ovens, Windows, Wardrobes, Washing Machine, Cabinets, Drawers, Microwaves, Dryer, Dishwasher, Squeaky Knobs, Latches, Door Chains, Wooden Doors, Sliding Doors.