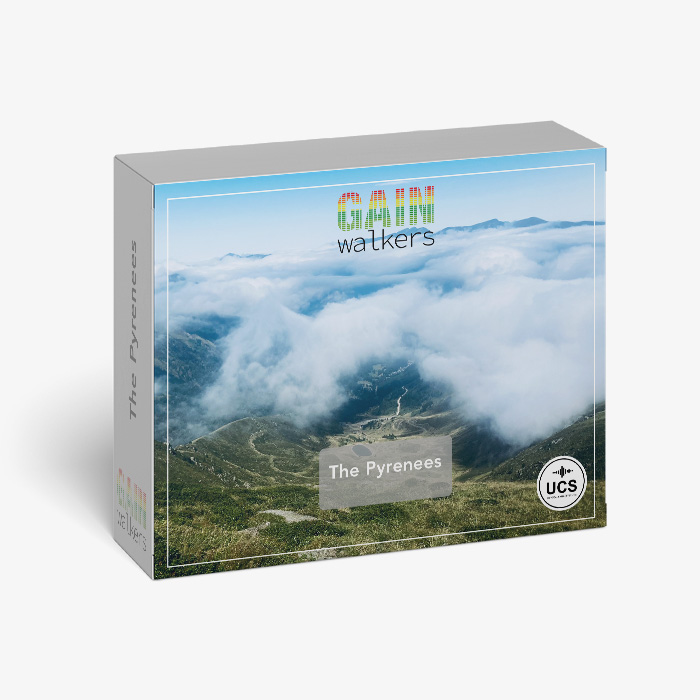 The Pyrenees brings you a collection of quad and stereo recordings taken in spring and summer time across several locations of the Regional Natural Park of the Ariège Pyrenees.
Main focus of this collection is the wildlife present in forests and grasslands.
As usual in any other GW nature library, the day and night cycle is included.
Featuring dense and sparse birds, insects, flies, grasshoppers, crickets. Distant cowbells are also included in a few recordings. In some night recordings you will hear foxes screaming in the distance.
Some of the species identified but not limited to: European Red Fox, Tawny Owl, European Wood Pigeon, Great Tit, Eurasian Blackbird, Great Spotted Woodpecker, Eurasian Treecreeper, Eurasian Jay.
This library has been recorded at a medium altitude, from 1200m to 2000m, where vegetation is still a key element, meaning birds and insects will have an important presence in the soundscape, and all human made noises are gone.
Gear used: Sound Devices MixPre 6-II, Zoom F3, Sennheiser 8040s and 30 in DMS decoded to Quad, Sennheiser 8040s in ORTF, LOM Usis in Quad.
All files are in 96 kHz / 24 bit and come with embedded Soundminer metadata.
UCS Compatible Metadata embedded. Fields included CatID, Category, Subcategory, FX Name, Filename, Description, BWDescription, Library, RecType, Microphone, Designer, Manufacturer, Keywords.
Product details
Number of Files: 25 Quad WAV files & 46 Stereo WAV files
Size Unpacked: 15 GB
Sample Rate: 96 kHz / 24 bit
Total Duration: Approx. 120 minutes in Quad & 235 minutes in Stereo
File types: Quad (recorded in Quad), DecodedQuad (recorded in DMS and decoded to Quad), DecodedStereo (recorded in DMS and decoded to Stereo), ORTF & AB (Stereo recordings with no Quad version)
Other Info: Embedded Soundminer and BWAV Metadata
License type: Single user, royalty-free. For a multi-user license, please contact us.
Keywords included:

Pyrenees, Countryside, Rural, Spring, Summer, Warm, Hot, Forest, Pine, Woodland, Grassland, Alpine, Mountain, Bird, Fox, Woodpecker, Woodpigeon, Blackbird, Jay, Treecreeper, Insect, Cricket, Fly, Grasshopper, Cow, Sparse, Dense, Wildlife, Dusk, Dawn, Night, France.