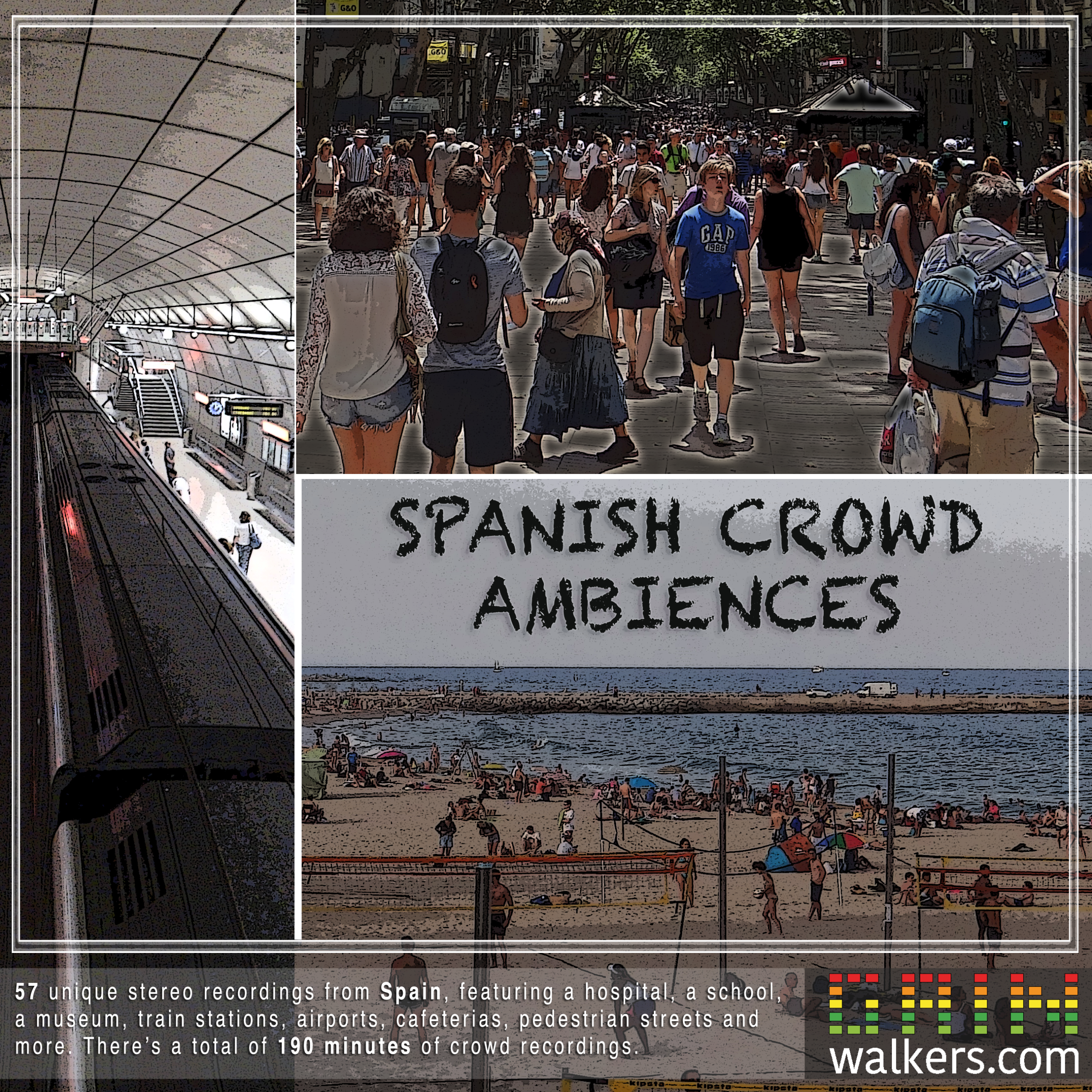 Spanish Crowd Ambiences features stereo recordings from 7 different cities of Spain: Madrid, Barcelona, Seville, Bilbao, Cordoba, San Sebastian and Malaga.
Some of the locations include are a hospital, a school, a market, a beach, several train stations, cafeterias, bar terraces and many more. All recordings, unless it's specified, are free of birds and traffic sounds, which will allow you to mix your tracks as you please.
There are 57 recordings included, most ambiences are 2-3 minutes in length – and there are more than 190 minutes of crowd recordings in total.
Files come in 96 kHz / 24 bit and 48 kHz / 24 bit.
All tracks have full Soundminer embedded Metadata.
Product details
Number of Files: 57 High Quality WAVS
Size Unpacked: 4.1 GB
Sample Rate: 96 kHz / 24 bit & 48 kHz / 24 bit
Total Duration: 190 minutes
Other Info: Embedded Soundminer and BWAV Metadata
License type: Single user, royalty-free. For a multi-user license, please contact us.
Keywords included:

Spain, Spanish, Madrid, Barcelona, Malaga, Seville, Cordoba, Bilbao, San Sebastian, Airport, Ambience, Bank, Bar, Beach, Bus, Cafeteria, City, Crowd, Hospital, Market, Metro, Museum, Office, Park, Patio, Pedestrian, Restaurant, School, Station, Shop, Store, Street, Supermarket, Terrace, Urban.