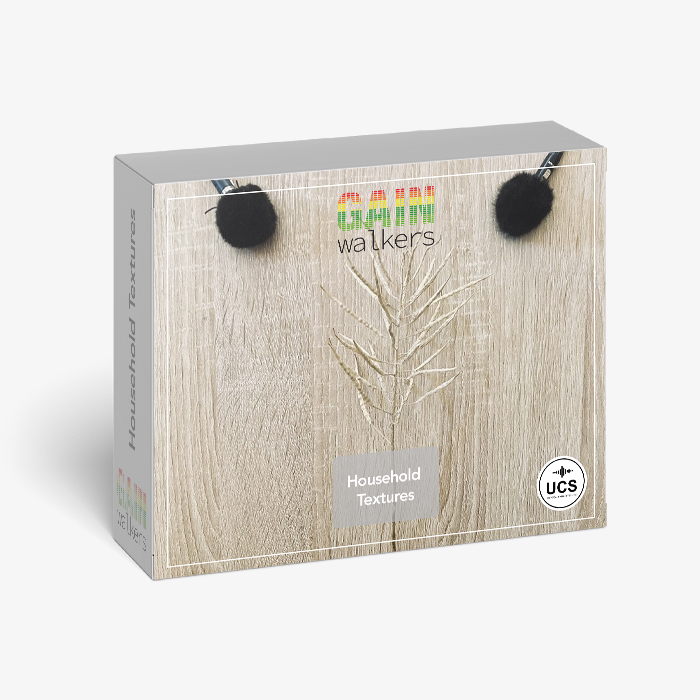 Household Textures
is all about those peculiar textures that we can obtain
from an everyday object that is already in our place
. These sounds can become a super useful source when it comes to sweetening your sound design workflow.
The goal was to use any object located in a house and manipulate it as much as possible in order to get a unique sound that might be used in a completely different scenario.
From carpet to mayonnaise to rubber. The list is endless.
A plant, if moved with the right timing, might become insect wings. A sliding door can be used for a portcullis. Some synthetic clothes do sound like sand. Even a mountain bike can fake a giant watermill spin.
Actions included such as carpet rustling, putting down a leather jacket, extracting viscous sounds from homemade sauces, scraping aluminium foil, sharpening a knife, etc. From long steady movements to short impacts and hits.
Cloth, dirt, glass, liquid, metal, plastic or wood are among the recoded textures.
Gear used: Sound Devices MixPre 6-II, Sennheiser 8050 & 30 in MS, Sennheiser 8040s in ORTF, LOM Usis, LOM Geofon, LOM Mikro Usis, Sony D100.
Most of the files are in 96 kHz / 24 bit, while the ones recorded with LOM Usis and with usable frequency content are in 192 kHz. They all have embedded Soundminer metadata.
UCS Compatible Metadata embedded. Fields included CatID, Category, Subcategory, FX Name, Filename, Description, BWDescription, Library, RecType, Microphone, Designer, Manufacturer, Keywords.
Product details
Number of Files: 390 High Quality WAVS
Size Unpacked: 7.4 GB
Sample Rate: 96 & 192 kHz / 24 bit
Other Info: Embedded Soundminer and BWAV Metadata
License type: Single user, royalty-free. For a multi-user license, please contact us.
Keywords included:

House, Household, Cloth, Cotton, Fabric, Synthetic, Textile, Leather, Carpet, Electric, Interference, Belt, Cook, Food, Sauce, Ingredient, Glass, Door, Gore, Toilet, Liquid, Mechanical, Metal, Furniture, Door, Plastic, Wrap, Rock, Rubber, Vegetation, Plant, Leaf, Bike, Water, Bubble, Knife, Wood, Impact, Friction, Stress, Rattle, Rustle, Crash, Creak, Squeak, Viscous, Slide, Sharpen, Ride, Spin, Debris, Jingle.